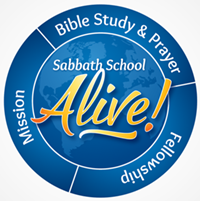 Adventist Sabbath School
The Sabbath School, the primary religious education program of the Church, has four purposes: study of the Scripture, fellowship, community outreach, and world mission emphasis. Join one of our adult Sabbath school lesson study groups. Every week small groups get together to share what they learned from the lesson and how it has made a difference in their lives.The General Conference Sabbath School and Personal Ministries Department distributes the Sabbath School Bible study guide for all age levels, provides designs for Sabbath School programming within the context of the various world division cultures, provides resources and training systems for Sabbath School teachers, and promotes world mission Sabbath School offerings.
Mission: Gain World mission education and community outreach training in Sabbath School.
Bible Study & Prayer: Discover the power of Bible study and prayer in Sabbath School.
Fellowship: Experience the joy of fellowship through study and service in Sabbath School.
---
Pisgah Sabbath School
Our Sabbath School is Engaging, Interactive and takes place in-person
and via Zoom every Sabbath / Saturday beginning at 9:15 am
(Our doors are open for Sabbath School, but if you cannot make it in-person,
please feel free to join the fellowship via the Zoom Meeting link below.)
Password: Pr@iseGod
---
Sabbath School Quarterly Online
Sabbath School Quarterly book are available from our Sabbath School Superintendent.
If you prefer, you may also view the Sabbath School Quarterly online via the
Adult Bible Study Guide Website
View and download current and future lessons as well as past archives. Available Editions include Standard, Teacher's and Easy Reading, and Ellen G. White notes are available.
---
An alternate site for the online Sabbath School lessons is below. Playable Audio and Video discussions of the lesson are available there. Supplemental notes from Ellen G. White are also available. Also view many versions of the quarterly lessons, including Inverse,  Connerstone, Real Time Faith, Junior Powerpoints, Primary, Kindergarten & Beginner.
Sabbath School AdvenTech Website  
---
Sabbath School Quarterly Apps
The Sabbath School Quarterly app allows you to take your Seventh-Day Adventist Biblical studies wherever you bring your phone.