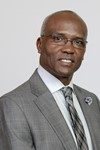 Dr. Glenford Baxter, Pastor
Welcome to Pisgah on the Web
"Loving God Completely... And Others Unconditionally".  To realize this ideal at Pisgah we encourage each other to live the abundant life in Christ each day, in preparation for, Our Lord's Soon Second Coming, and eternity with Him.
The following are available to encourage and nurture you, your family members, and each of us on our spiritual journey:
Adventist Youth Ministry, (including young people up to age 35 into church life)
Baby Dedications
Bible Study, (for Adult, Youth and Children)
Community Service
Forgiveness Training Seminars
Funeral Service
Grief Counseling
Health Ministries
Outreach Ministries
Prayer Ministry
Pathfinder Club, (a church-centered spiritual-recreational-activity program designed for young people 10 to 15 years of age)
Prepare Enriched Marriage Counseling (preparing those entering marriage, and enriching those already married)
Weddings
Please feel free to call or write, and let us know how we can be of service to you and your family members.
You are welcome to worship with us weekly. Please see all of our worship times on the right.
Sincerely,
Dr. Glenford Baxter, Pastor,
Pisgah Seventh-day Adventist Church
gbaxter@aecsda.com
(410) 251-1920